Ma has ten-second bow on the press conference -- I am sorry. I come to play! (取自T9網友Piear Carcheng 皮阿卡撐)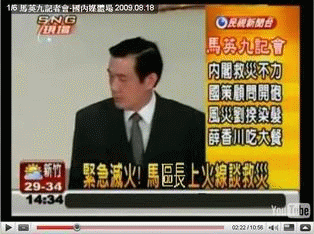 7
65萬人去年選馬英九當總統,結果這次莫拉克水災因馬的無能,喪失了600~700條人命,成為全世界的醜聞(見如下TIME的報導)。然而無能馬一點也不認錯,照常在媒體的鎂光燈下、到災區上演鞠躬大戲,他手上還換上電子表去計時,單單做個8~10秒鐘的彎腰運動,民調又上升4%了,但是犧牲這麼多條人命,財產損失無法估計,卻一點也不值得。

這TVBS在短短兩週內的第二次民調,極有可能是配合馬英九進行的置入性行銷操作,但不要忘了,他花的還是我們的納稅錢。去年投馬的人,你們也有家人在這次水災被犧牲,能用你們的良心去審視,還要讓馬英九這個禍害繼續在位嗎?請再以同理心仔細想想,我們的父(母及兄弟姊妹)都只有一條命,當馬劉要求再給他們一次機會,可是有誰能給災民失去的親人再活一次的機會?


===============================================================
Inept Ma Ying-JOKE

◎ 倪國榮(作者為詩人,新竹市民)



話說馬英九的有品運動叫了幾叫,可是逢到風災,馬政府延擱救災又婉拒外援,死傷更增,已涉殺人。又牙齒如刀,竟對國際媒體指責災民死守拒不撤離,輿論大嘩,成國際笑柄(Ma Ying-JOKE)。現在連TIME時代雜誌也看不下去了!

新一期TIME(Aug. 31)首頁對台灣照顧有加,Postcard: Chishan(明信片:旗山),專訪裡謂災民新口號:「我們寧要貪污的總統也不要無能的總統」(We'd rather have a corrupt President than an inept one!),憤恨諷刺,戳入馬政治傲骨裡,揭開馬無能殺人恐怖的一面。

陳水扁該死?那麼馬英九又該死幾次呢?

用inept形容馬英九,除了「無能」,更讓人聯想起「無效」!

例如當馬英九不敢對中共主張中華民國時,中華民國人民即失去尊嚴與安全。所有跟中國的紙上簽署都可能一夕生變。這是個無效的總統!觀其任公職以來之公共建設無一及格,還要帶領中華民國人民(或台灣人民)去簽署依賴中國善意迄今內容都不公開的ECFA,可謂危險至極;就像一再投資失敗的人,要拉你最後一次巨款投資他自己也講不清楚的東西,你願意嗎?

無能、無效的總統,台灣人自求多福。馬英九已經帶我們坐上鐵達尼號,正要開航;ECFA一簽,就駛向不歸的命運……。
---------------------------------


取自外獨網友someone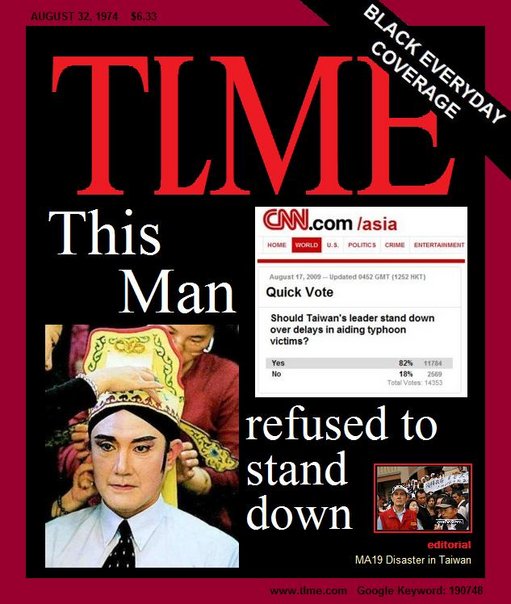 Postcard from Cishan
(Mudslide covered houses in Namasia in Kaohsiung County, southern Taiwan. Rescuers struggled on August 14 to save thousands trapped in villages across southern and central Taiwan. AFP / Getty)

Wu su-feng knows she was one of the lucky ones. "My husband thought we were washed away," says Wu, a pregnant preschool teacher, sitting in a shelter for typhoon victims in the small town of Cishan in southern Taiwan. When Typhoon Morakot struck the island on Aug. 8, bringing nearly 9 ft. (around 2.5 m) of rain and the island's worst floods in over 50 years, Wu grabbed her 1-year-old son and climbed three hours to higher ground. There, she and hundreds of people from her village waited three stormy days and nights before military helicopters rescued and delivered them — along with thousands of others — to safety in Cishan.

A week later, the thunder of large military helicopters returning from rescue missions still boomed through this small town — a locus of Morakot relief efforts — every 10 minutes. With each landing, workers raised a banner with the name of the village it had flown in from, as family members, lined up outside classrooms at Cishan Junior High School, hoped to see their loved ones emerge. "I used to cry every time I saw a helicopter," says Lamada Isehmasan, after waiting for his parents and brother to be ferried for five days. "Now, I'm numb."

(See pictures of Taiwan's typhoon terror.)

Typhoons regularly sweep over Taiwan, but few living on the island today have seen anything like Morakot. It was the deadliest natural disaster to hit the island since a magnitude-7.3 earthquake struck in 1999, killing over 2,400. The storm dumped a year's worth of rain on the island in three days, leading to floods that left at least 136 dead and nearly 400 missing, as well as widespread damage.

For Taiwan's President Ma Ying-jeou, Morakot has also become a political storm. The same day that national television aired footage of mourners at the village of Siaolin, where some 400 people are thought to be buried by mudslides, Ma appeared on the evening news wearing a cheerful blue-and-white baseball cap and polo shirt at Taiwan's World Youth Baseball Championship. It was not the President's only

faux pas

(=a socially awkward or tactless act)

. Earlier that week, Ma told reporters that residents living in Morakot's path were not "well prepared,"

pinning

(to blame)

the slow evacuation on the victims and showing an

aloofness

(a disposition to be distant and unsympathetic in manner)

that stood in sharp contrast for many Taiwan people to the urgency with which President Lee Teng-hui took charge of quake relief in 1999. People even came up with the

stinging

(harsh or hurtful in tone or character)

slogan "We'd rather have a corrupt President than an

inept

(incompetent)

one!" — referring to former leader Chen Shui-bian, who is on trial for corruption. "[Ma's] behavior has given him a very negative image," says Yang Tai-shuenn, a political scientist at Taiwan's Chinese Culture University. "It will take a very long time for him to recover."

Ma has apologized for the sluggish response, expressing his regret in a deep, seven-second bow to the nation and pledging to overhaul national rescue operations. In his over one year in office, Ma has reached many milestones in relations with China, such as establishing direct transportation and closer economic ties, all of which are helping Taiwan weather the financial storm. But his approval ratings have dropped dramatically after Morakot. "President Ma faces a very serious crisis," says Chiu Hei-yuan, a sociologist at National Taiwan University. "He'll still have a chance if he does very well with the reconstruction." That won't come cheap: the estimate is $3.3 billion.

Living in temporary shelters throughout Taiwan, Wu and some 7,000 other people made homeless by Morakot are trying to cope. The Cishan shelter's main hall is filled with drinks, crackers, new clothes, slippers, toothpaste, soap and towels — part of the outpouring of support from around the island. "It is good to be alive and to know people care," says Wu. But, she adds, "we're still in trauma." Still, Wu is one of the more optimistic residents; she, at least, wants to return to her village. Many don't. Yin Jui-rong, an aboriginal farmer whose village was also destroyed, says he won't go back even if it gets rebuilt. "I'd be terrified every time it rains," Yin says. "Our future is a very difficult problem to solve."